This is a guest post from Daniel Bliley, the founder of Bigfoot Kick. They design clothing that blends video game, hip hop, and outdoor cultures together to make unique styles to wear. And, they're a 1% for the Planet business. That means that your purchase supports the Endangered Species Coalition's work to save wolves and other endangered species.

By Daniel Bliley
We all grow up dreaming of being something, usually an actor or sports star. Some have more noble aspirations. Doctors. Firefighters. Maybe president.

For me, it was a zoologist. Yup, I loved animals. Tigers, lions, birds, and sharks. I was fascinated by the interconnectedness of ecosystems. I marveled at the biodiversity of Mt. Kilimanjaro. I even made a replica of it for a social science project.
I also found myself captivated by Unsolved Mysteries episodes of Bigfoot and the Loch Ness Monster. I watched every Discovery and Nat Geo documentary I could. I researched. I fantasized. I was determined to save up my chore money, travel to Scotland, camp on the shores of the loch, and discover Nessie.
Welp. None of that happened.  I never became a zoologist but I never lost my passion for the animal kingdom. I didn't lose my interest in cryptozoology, either.
Fast forward a few decades (give or take – let's not count too closely) to launching my own business—born out of a yearning to rediscover my passion for creativity and the desire to work alongside talented and diverse people. I had lost that fire after years of toiling in the corporate world, building brands and businesses, all to feel like I was still searching for something. I then launched Bigfoot Kick, bringing together all the things I loved as a kid—zoology, mythical creatures, and sprinkling in my love of video games, fashion, and 80s and 90s pop culture along the way. Mashing all these together created a vibrant, quirky, bold, and expressive brand that works closely with like-minded artists to create fun and fashionable gear that gives back.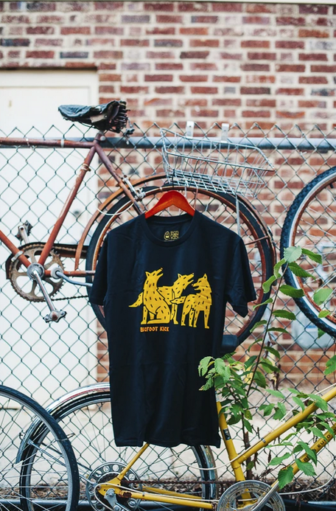 For the fall collection, we tapped several amazing artists to help fill out the line. One artist I had the pleasure of working with was Lisa Marie, a renowned illustrator from Chicago who had experience working with sustainably-minded businesses such as Patagonia. She was undoubtedly the right choice to help us create products that matched our love for the natural world and one of my favorite animals of all time—the wolf. She's also quite the outdoor enthusiast and animal lover herself. In talking about her favorites, she notes, "I love Olympic National Park. It's so odd and feels like you're walking through a Dr. Seuss book. I spent a night camping at La Push second beach, and it was unforgettable. The rock formations coming out of the water have trees and moss growing on them, and every time the tide goes out, the beach is filled with crabs and all sorts of creatures and seaweed. I've never been anywhere else quite like it. I also love that it's the only rainforest in North America. I'm a huge animal person so it's hard to pick a favorite, but I really love bears. I don't have one favorite outdoor cause in particular, but I would say everything that works towards cleaning up the lands and saving animals is always close to my heart."
For me, I've always been fascinated by the wolf—their ferocious yet familiar qualities. Man's best friend, only wilder. Their penetrating eyes. The intelligence. The air piercing howl.
I had recently read American Wolf, the gripping tale of the rise of O-Six, Yellowstone's celebrated wolf. Her story of natural survival reads like a warrior goddess tale…enthralling, suspenseful, and triumphant. Only to meet challenges beyond her will and strength—hunter-humans fighting to reduce protections that keep wolves safe. It was in this backdrop that led to the Wolfpack Tee and hat – a special mini-collection to celebrate and help protect American wolves. As a member of 1% for the Planet, I found the Endangered Species Coalition—a perfect partner to donate proceeds from Bigfoot Kick sales to so that they can continue their mission of stopping the human-caused extinction of at-risk species.
I am so excited about the fall collection, our wolf shirt and hats, and the opportunity to work with the Endangered Species Coalition to help protect wolves. 1% of every sale from this collection will support their work defending at-risk species across the country.
–
You can see more of Bigfoot Kick's Fall/Winter collection here. Your purchase supports the Endangered Species Coalition through 1% for the Planet.