What is the Activist Training Lab?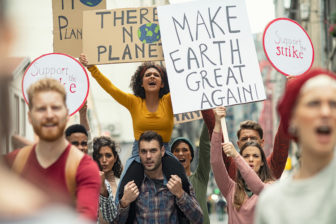 The Activist Training Lab is the Endangered Species Coalition's year-long training program for people who want to learn how to make an impact through grassroots organizing and advocacy!
The transformative year-long program is designed to provide you with a powerful combination of grassroots organizing skills, opportunities for hands-on experience with activism, and individual mentorship to support your personal and professional goals. You will complete the program with the tools to create real impact in your community. If you want to become an agent of change or jumpstart a career in environmental or justice advocacy, this is the program for you.
Apply now for the September 2022 – August 2023 cycle of the Activist Training Lab! 
How It Works
In the Activist Training Lab, you are part of a small group of 12 – 16 people from across the United States, of different ages and backgrounds, who all care about protecting our planet and our people through grassroots organizing. Together, you and your cohort will complete the year-long Activist Training Lab program, which includes:
Monthly online workshops, where you learn about different topics and skills and participate in engaging discussions.
Opportunities to get hands-on experience with activism and make an impact in your community, with the support of the Activist Training Lab team.
Access to books, articles, movies, videos, and other resources for further learning.
One-on-one support and mentorship from someone on the Activist Training Lab team.
Benefits of Participating
Build skills such as strategic campaign planning, recruiting people, developing leaders, telling compelling stories, working with the media, fundraising, lobbying, and more.
Learn from experts about how they use advocacy and organizing to address environmental and justice issues 
Develop lasting friendships with a network of professional and volunteer environmentalists and organizers across the country.
Earn a certificate of completion that can build your resume, support a career change, and or be used toward high school or college community service requirements (depending on your county).
Receive support with starting or transitioning to a career in grassroots organizing or environmental advocacy. 
Become someone who is better equipped to make a difference in your community on pressing issues. 
Logistics
The Activist Training Lab program will begin in September 2022 and conclude in August 2023. We expect participants to commit to the entire year. The program requires ~8 hours per month.
Online workshops will occur once a month. Between the workshops there will be opportunities to get hands-on practice with the skills you have learned and receive one-on-one support and mentorship. The program is completed entirely online and through work in your own community. And the Activist Training Lab is 100% free – no fees.
Who Can Apply
You must be 18 years of age or older.
You must live in the United States. 
We believe that environmental issues disproportionately impact the most marginalized people in our society, and we believe vulnerable communities must be centered in the work we do. We especially encourage you to apply if you identify with a community that has traditionally been marginalized in the environmental movement and society at large, including (but not limited to) people of color, Indigenous peoples, youth, seniors, and LGBTQ+ , low-income, rural, and immigrant communities.
How Do I Apply?
You can apply for the Activist Training Lab September 2021 – August 2022 cycle here: https://forms.gle/gzF3R2Frg4qTUUFc6. 
The deadline to apply is July 10th, 2022.
We will carefully select the strongest applicants to move on to interviews conducted over phone and video chat. The strongest applicants will:
Demonstrate a clear interest in protecting biodiversity and advancing environmental justice
Demonstrate a clear interest in building skills of grassroots organizing and mobilization
Be enthusiastic about committing to a year-long program
Be committed to learning in a diverse community and respecting people of different identities and backgrounds
Who's Running The Program? 
The Activist Training Lab is directed by Sarah Starman, the National Grassroots Organizer with the Endangered Species Coalition. In addition, multiple staff members at the Endangered Species Coalition are also involved, as well as partners and allies from across the environmental and justice organizing fields. You can learn more about our staff here.
If you have questions or concerns, please contact Sarah. Her email is [email protected]