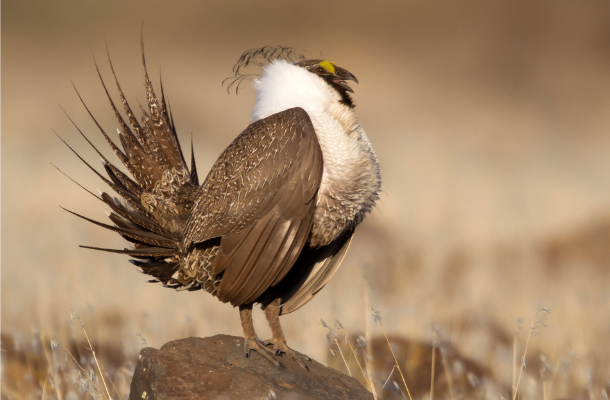 Today, the Senate approved removal of a rider that had stifled conservation efforts for rapidly declining Greater Sage-Grouse. Photo by Vivek Khanzode
(Washington, D.C., October 18, 2021) The Senate FY 22 Interior Appropriations bill released today excludes a provision exempting protection under the Endangered Species Act (ESA) for the once-abundant but now rapidly declining Greater Sage-Grouse. The House of Representatives has already passed an Interior bill without the rider. Conservation groups are urging that the rider remain out of the final spending agreement.
"Our thanks to Senators Jeff Merkley and Patrick Leahy for showing exemplary conservation leadership by excluding the sage-grouse rider from the Interior bill," said Steve Holmer, Vice President of Policy for American Bird Conservancy (ABC). "This exemption has been in place for nearly seven years. It's time to once again give the grouse the possibility of ESA protection and the safety net it deserves."
The Greater Sage-Grouse is the keystone species of sagebrush habitat in the American West. Conserving the grouse also supports 350 other species of conservation concern, including the Pronghorn, Pygmy Rabbit, Mule Deer, native trout, and nearly 200 migratory and western bird species.
As many as 16 million Greater Sage-Grouse once occurred across 297 million acres of sagebrush grasslands in the West. Today, the sagebrush biome and grouse populations continue to decline. Sage-grouse habitat is less than half of what it once was, diminished by invasive species, roads, overgrazing, mining, energy development, agricultural conversion, and fires. The grouse's populations have declined 80 percent range-wide since 1965 and nearly 40 percent since 2002.
"A recent U.S. Geological Survey (USGS) study provides an excellent resource to understand the magnitude of Greater Sage-Grouse loss, as well as the likelihood that grouse populations will continue to decline," said Holmer. "It also shows that the species' range will continue to contract absent substantial new conservation measures."
The USGS report indicates that current management plans and other regulatory mechanisms are not sufficient to arrest the grouse's ongoing decline, and that additional conservation measures are needed to stabilize the population.
"Efforts to revive the National Greater Sage-Grouse Planning Strategy can best be accomplished, and will have a greater chance of success, if the Endangered Species Act listing moratorium is ended," said Holmer.
###
 American Bird Conservancy is a nonprofit organization dedicated to conserving wild birds and their habitats throughout the Americas. With an emphasis on achieving results and working in partnership, we take on the greatest problems facing birds today, innovating and building on rapid advancements in science to halt extinctions, protect habitats, eliminate threats, and build capacity for bird conservation. Find us on abcbirds.org, Facebook, Instagram, and Twitter (@ABCbirds).   
If you would rather not receive future communications from American Bird Conservancy, let us know by clicking
here.
American Bird Conservancy, PO Box 249 – 4249 Loudoun Ave., The Plains, VA 20198 United States