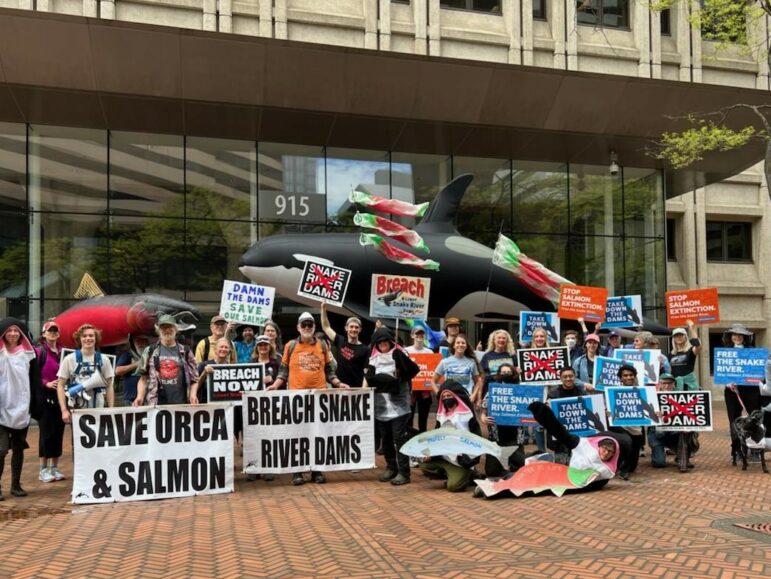 On the first weekend of Orca Recovery Month, youth organizers and conservation groups marched and rallied in Seattle, calling on Washington's elected officials to include removing the four lower Snake River dams in their plan to restore endangered salmon populations on the Snake River, which Southern Resident orcas and Northwest communities rely on.  
High school and college students highlighted how the Southern Resident orcas that call Puget Sound home are at risk of extinction, primarily due to lack of their main food source- Chinook salmon.  
Salmon runs throughout the Southern Resident's range are a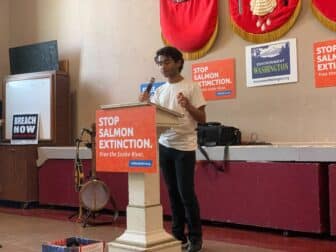 lso endangered, including multiple salmon species on the Snake River which have been listed under the Endangered Species Act for over 30 years. 
The march included  an inflatable 21 foot orca and nine foot salmon. Silk red and green sockeye salmon windsocks fluttered in the breeze.
Four dams on the lower Snake River continue to block 140-miles of pristine spawning habitat and pose lethal roadblocks in the salmon's migration to and from the ocean.
Led by two banners,  "Save Orca & Salmon" and "Breach Snake River Dams," the marchers were boisterous,loud and included a sixty year old who had never been to a rally before along with a person costumed as an orca who was on a skateboard.
 Breaching of the lower Snake River dams represents our best opportunity to restore the large numbers of Chinook salmon that endangered, hungry orcas need to survive and recover.
Seattle streets reververbated  with these chants by the marchers: Hey hey, ho, ho snake rivers have got to go; Free the Snake, No fish, no blackfish; Stop salmon extinction; and Up Stream.
The rally finished at Seattle's federal building where marchers called on Governor Inslee, Murray and Cantwell to support freeing the Snake River and restoring endangered salmon and orca populations.
Take Action for Orcas and Salmon
Tell the Biden Administration to remove four lower Snake River dams