Colorado Wolf Reintroduction
 Wolves are emblematic of the wilderness. In 2023, Colorado will reintroduce this iconic species to the state – after more than eighty years without the presence of wolves in local ecosystems. The approaching reintroduction of wolves is happening as a result of voter approval of the 2020 ballot initiative Proposition 114. To learn more about Colorado's wolf reintroduction and receive current updates and progress on returning wolves to Colorado, you can check out Colorado Parks and Wildlife's Wolf Management page. 
 As Coloradans prepare for wolves to return to their home state, ESC and Animated Ecologies are launching Wolf Tales: an innovative, educational animation project — a project that you are invited to join. Wolf Tales is a series of workshops and creative opportunities, connecting visual art and ecological conservation through the medium of animation. 
We're offering workshops featuring professional animators and wolf reintroduction specialists and welcome you to participate. Join us to learn more about wolf reintroduction, gain animation skills, and create your own animation project on Wolf Tales wolf reintroduction themes. To register for our upcoming May 25th workshop, the second in our project series, follow the registration link below. 
Animation Workshop May 25th!
Gabriel Rolim: Manipulated Images

Animation is an important aspect of our work at Endangered Species Coalition and is the driving force of our Wolf Tales project. Artist Gabriel Rolim will present creative ideas for how to manipulate images from your phone to your computer in After Effects. The principles of the software will be shown as well as principles of visuals synthesis in After Effects – how to alter, effect and manipulate your own footage into something new. Sample yourself and then resample it!
Rollinos (Gabriel Rolim) is a Brazilian visual artist and researcher who seeks different perspectives from visual imagery through sampling and filming. His processes involve digital and analog equipment to synthesize and transform videos and printed art on a workflow that's experimental. All of these styles are informed by his background, focused on the creation and presentation of visuals for music and live acts – he's toured with bands as a VJ and light designer since 2016.
Clients: Metronomy, Nike, Nba, Topo Chico, Boogarins
Follow Gabriel Rolim's work on Instagram @rollinos
.
Animators and Artists creating works celebrating the presence of wolves in ecosystems are invited to submit animated shorts, and still images from animations in progress, for inclusion in Endangered Species Coalition and Animated Ecologies Wolf Tales project. To view complete guidelines and and submit works follow the link below.
ANIMATION+ WOLF REINTRODUCTION WORKSHOP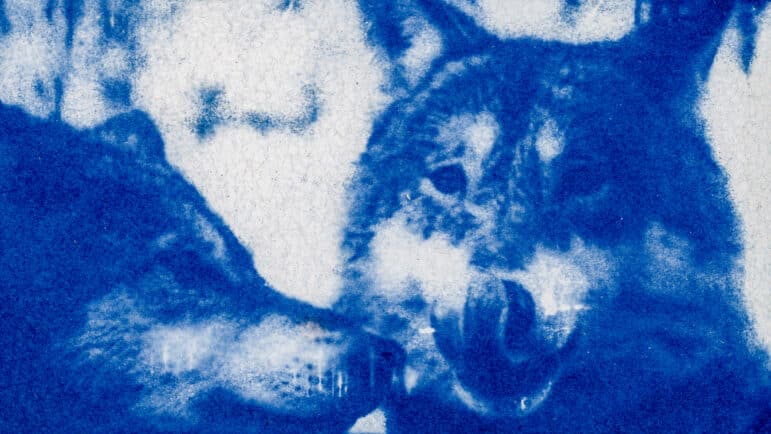 Saturday, April 23rd, at 11:00 am MST
Edd Carr: Anthotype Animation
As the ecological crisis worsens, we are always looking for new ways to create and display images sustainably. Although printmaking techniques are often associated with environmental damage – the world of alternative processes offers a number of sustainable techniques for amateurs and professionals alike. One such technique is the Anthotype – a process that only uses plant materials – no nasty chemicals required!
From his darkroom, artist Edd Carr will lead participants in creating their own anthotypes, from a variety of materials local to their own environments. From supermarket vegetables, to plants found in your garden, participants will be able to create prints that are both biodegradable and beautiful. Edd will also show participants how to animate this photographic process, creating animations made entirely from plant material.
Diana F. Tomback, PhD: Wolf Reintroduction
Diana F. Tomback is a Professor of Integrative Biology at the University of Colorado Denver, with expertise in forest ecology and conservation biology. She received a B.A. and M.A. at UCLA and Ph.D. at the University of California Santa Barbara.  
A long-time Yellowstone National Park researcher, Tomback has advocated for wolf reintroduction to Colorado through her classes, presentations, and webinars; served on the Science Advisory Committee for the Rocky Mountain Wolf Project; and, worked with the Living With Wolves non-profit based in Idaho. She currently serves on the board of Working Circle, a Colorado non-profit that works with ranchers on predator coexistence and regenerative grazing.  
Cyanotype on recyclable vellum, Wolf Tales, Edd Carr
Wolf Tales
Cyanotype by Edd Carr
Edd Carr is an artist based in Leeds, UK. Adapting photographic processes into moving image – his work depicts our relationship to ecological crisis and the wider nonhuman world. Edd's moving image work has been exhibited worldwide, and he has won multiple awards – most recently the Channel 4 Random Acts Award. Edd is also one of the leaders of the Sustainable Darkroom, a non-profit organization dedicated to the research, development, and advocacy of eco-friendly alternatives to analogue and digital photography.
Follow Edd Carr's work on Instagram @_eddcar