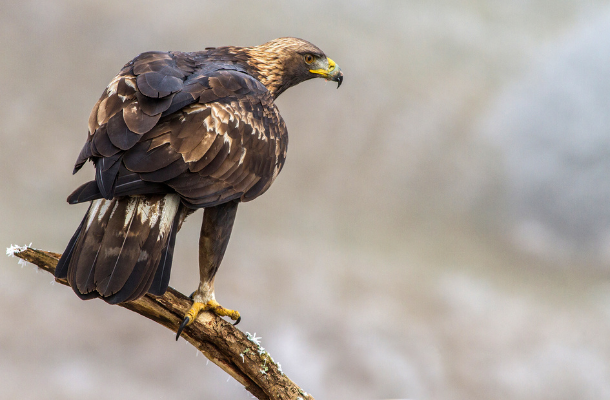 Golden Eagle by Ivan Godal
(April 7, 2022) ESI Energy, Inc., a wholly owned subsidiary of NextEra Energy Resources, LLC, pleaded guilty to violations of the federal Migratory Bird Treaty Act (MBTA) on Tuesday, April 5. The company admitted that its turbines have killed at least 136 Bald Eagles and Golden Eagles since 2012. The company also violated the Bald and Golden Eagle Protection Act, according to the Justice Department. ESI Energy will pay more than $8 million in fines and restitution, and has been placed on a 5-year probation during which it must follow an Eagle Management Plan.
"Renewable energy is essential in the fight against climate change," said Mike Parr, President of American Bird Conservancy (ABC). "At the same time, steps must be taken to minimize harm to birds. What we're seeing in this case is much-needed accountability for avoidable harm to birds by industry, stemming from the company's failure to follow the law.
"Unfortunately, the company seems to want to blame the laws and the birds for its violations," continued Parr. "Blaming the birds is like directing cars to drive on the sidewalk and then blaming pedestrians for being run over. It is well-known that if you put turbines in eagle habitat, there will be fatalities."
Climate change is a critical threat to birds. Recognizing this fact, ABC supports renewable energy, including wind energy, and the transition away from fossil fuels. However, wind projects sited in major bird migration routes or stopover sites can threaten huge numbers of birds. Some areas of the country are better suited to the development of wind energy than others. ABC has provided a wind risk assessment map to help identify these places.
"The case of ESI Energy points to the need to create a simple, effective system for upholding the MBTA," said Steve Holmer, Vice President of Policy for ABC. "ABC has long advocated for a permitting system that protects birds and minimizes administrative burden for industry and which would eliminate the need for these kinds of enforcement actions. We urge the federal government to create an MBTA permitting system to protect birds and provide regulatory certainty to industry. Everybody wins." 
###
American Bird Conservancy is a nonprofit organization dedicated to conserving birds and their habitats throughout the Americas. With an emphasis on achieving results and working in partnership, we take on the greatest problems facing birds today, innovating and building on rapid advancements in science to halt extinctions, protect habitats, eliminate threats, and build capacity for bird conservation. Find us on abcbirds.org, Facebook, Instagram, and Twitter (@ABCbirds).
If you would rather not receive future communications from American Bird Conservancy, let us know by clicking
here.
American Bird Conservancy, PO Box 249 – 4249 Loudoun Ave., The Plains, VA 20198 United States