Congress is considering legislation (S.164) that would overturn the 2014 ruling of a federal court and legislatively remove Endangered Species Act protections from gray wolves in the Great Lakes.
Call your representative and senators and ask them to oppose legislative delisting of wolves.
If passed into law, Wolves in Michigan, Minnesota, and Wisconsin would lose existing safeguards and management of this species would be turned over to those states. Wisconsin has indicated it would set a wolf hunting and trapping season as soon as possible, likely within one year. This state has a history of managing wolves aggressively and using methods that are illegal in most states. 
Tweet to S.189 co-sponsors and congressional leadership
In the most recent year prior to a federal court's intervention (2013), Wisconsin hunters and trappers killed 19 percent of the state's wolf population leading scientists to express concern. That same year, a group of scientists outlined multiple flaws in the state's methods of reporting wolf mortality and reporting the wolf population status.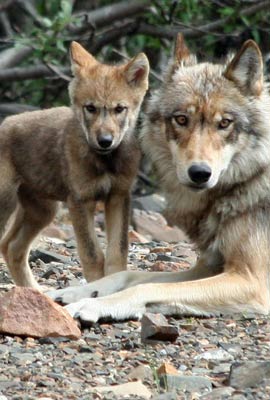 As recently as January of 2017, scientists alerted the state of Wisconsin to flaws in their estimation of the toll that illegal killing or poaching is taking on the state's wolf population. These scientists and others are concerned enough by the state's inability to manage wolves in Wisconsin and 
Motivated by Wisconsin's past management and other concerns, 70 scientists sent a letter to Congress in 2016 urging the continued protection of wolves in the Great Lakes under the Endangered Species Act.
We know from leaked emails that there are decision makers in the state of Wisconsin advocating for the killing of as many as 70 percent of the state's wolves in the first year following delisting.
Wisconsin is also alone in allowing the use of packs of dogs to pursue wolves as part of their past (and likely future) management of this species. 
Tweet to senators and representatives that can stop this legislation.
In Minnesota, wolves are listed as Threatened under the Endangered Species Act, allowing the state to respond to depredation complaints but still protecting them from needless hunting and trapping.
In Michigan, voters have repeatedly rejected a wolf hunting seasons when put to vote by referendum. The statehouse ignored these expressed wishes in passing a law that directs the state Natural Resources Commission to designate a hunting season on gray wolves upon delisting. 
In none of these states is there an urgent need to usurp federal courts or ignore scientists, legal experts, and the public that have spoken out against removing Endangered Species Act protections for gray wolves. Despite this, senators and representatives from both parties are pushing legislation to do just that. Senators Mike Enzi (R-WY), John Barrasso (R-WY), Amy Klobuchar (D-MN), and Tammy Baldwin (D-WI) have co-sponsored legislation that overturns the court's order and directs the Secretary of Interior to immediately delist Great Lakes wolves.
Tweet Senators Baldwin and Klobuchar and ask them to withdraw their support for this bill to allow the immediate and unsustainable killing of wolves.
This bill could be considered as an amendment or "rider" on funding bills making their way through Congress now.  This repeat of the tactics used to delist wolves in the Northern Rockies is an affront to the Endangered Species Act and defies science, the law, and normal legislative order. Please contact your representative and senators and urge that they oppose this legislation in any form and if you are on Twitter, tweet at members of Congress that can stop this legislation now.