Gray wolves are in danger. Wolves in the Northern Rockies are not protected by the Endangered Species Act right now, and unfortunately, some states in the Northern Rockies are utterly failing to protect and safeguard wolves. This past year, wolves were killed at an unprecedented rate in the region. Wolves were baited, trapped, and slaughtered with impunity. Wolves were intentionally lured out of YellowstoneNational Park to be hunted and killed on the park's borders.
The good news is that we can stop this. In May, the Biden Administration has an opportunity to restore protections for wolves through a Fish & Wildlife Service status review.
We need Secretary of the Interior Deb Haaland and President Joe Biden to support relisting wolves as an endangered species in the status review and restore protections for wolves. And we need your help to make this happen and successfully relist wolves.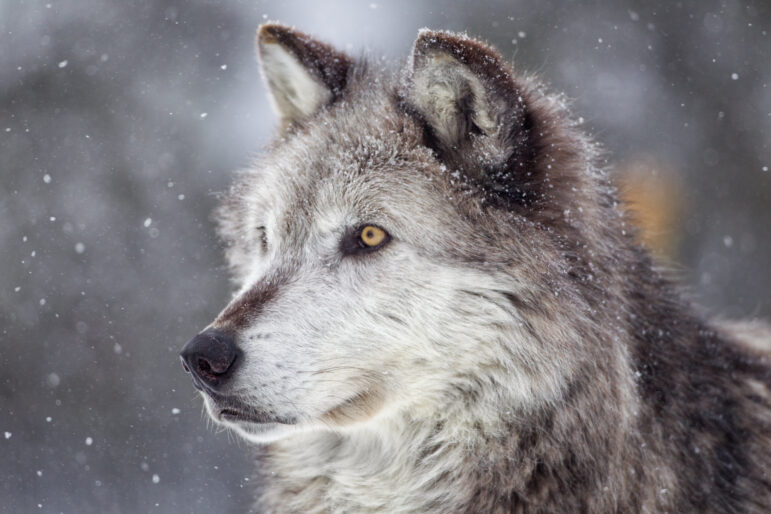 Take action by joining a Wolf Protectors group in your community today!
Find a Wolf Protectors group near you using the map below and connect with other members of your community who care about wolves.
Can't find a group near you? Check out our "Wolf Action Guide" below, which includes easy step-by-step instructions for starting a new Wolf Protectors group and detailed information about how to take action for wolves.
The Wolf Action Guide is a detailed how-to guide that covers how to start a Wolf Protectors group in four easy steps. It also explains how to organize actions that support wolf re-listing, including how to have a letter-writing party, how to organize a social media storm for wolves, how to hold a banner drop, and how to get more members of your community engaged in protecting wolves.
Attend a training to learn more about how to start a Wolf Protectors Group, get tips for organizing your first actions for wolves, and get answers to questions. Find upcoming trainings below: